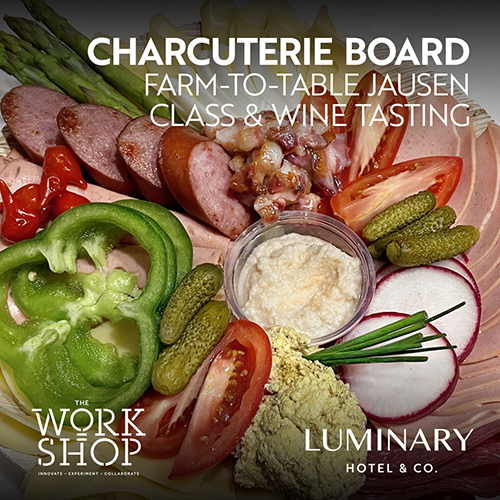 Charcuterie Board Class & Wine Tasting
Schedule: Saturday, August 14, 3:00pm - 4:00pm
Price: $64
Tickets Available: 19
Venue: The Workshop Culinary Theater at Luminary Hotel & Co. 2200 Edwards Drive, Fort Myers, FL 33901
Contact:
p: 12393143723
e:

[email protected]
Event Information
Culinary Journey to Southern Austria
Take a delicious cultural adventure with Ali Strauss, owner of Grazing Haus, as she shares her Austrian heritage through delicious food. At this class, you'll enjoy a Jausen, a term from Southern Austria, which translates to light eating. Jausen includes cold cuts, cheese, bread, homemade spreads, and seasonal local produce, usually enjoyed with wine. In Europe, it's usually served at the end of a long workday, and is enjoyed by the entire family. Jausen ingredients change with the seasons and are always farm-to-table with vegetables currently in season, or during the winter, with items that have been preserved.
Ticket Information and Instructions:
Advanced purchase only, tickets are not available at the door. Please review your order carefully prior to purchase, to ensure the correct event, date and time. You will receive an email confirmation after your purchase, this is your ticket. Please print and bring a copy of this email with you for entry to the event. If you did not receive an order confirmation, please contact us right away. Seating is general admission. Doors open 10 minutes before the event. 21+ only. No pets. Masks may be required.
Stay in the know, subscribe to our events newsletter.