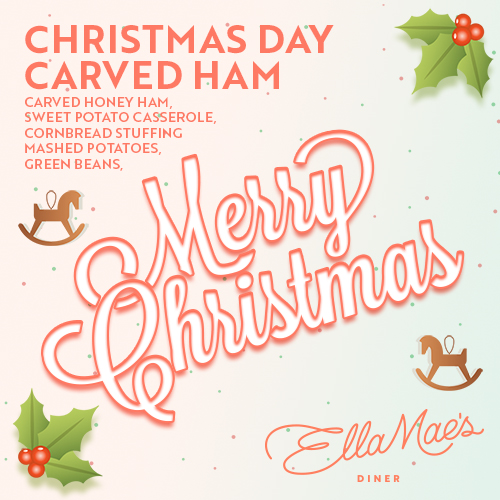 Christmas Day Ham Dinner at Ella Mae's Diner
Schedule: Saturday, December 25, 7:00am - 2:00pm
Venue: Ella Mae's Diner at Luminary Hotel & Co., 2200 Edwards Dr. Fort Myers, FL 33901
Contact:
p: 12393143723
e:

[email protected]
Event Information
Enjoy true Southern hospitality and a retro-inspired ambiance at Ella Mae's Diner.
Christmas Dinner at Ella Mae's is a delicious holiday special entree of carved Honey Ham with sweet potato casserole, cornbread stuffing, creamy mashed potatoes, green beans, pan gravy and a cranberry & Florida orange sauce, all for just $14.99.
No reservations needed.