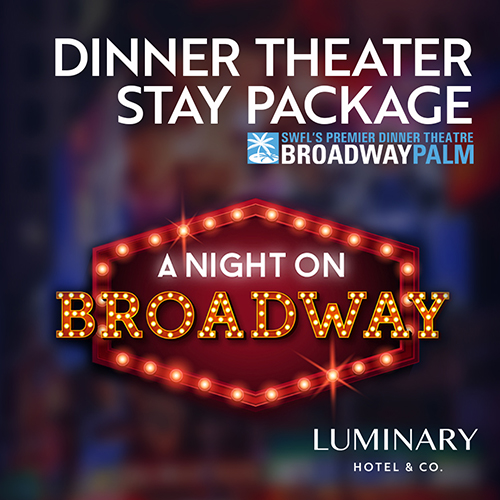 Dinner Theater Package
Schedule: Thursday, September 23, - Saturday, October 2,
Venue: Luminary Hotel & Co. 2200 Edwards Drive, Fort Myers, FL 33901
Contact:
p: 12393143723
e:

[email protected]
Event Information
Dinner Theater Plus an Overnight Stay
A thrilling musical review live on stage, featuring the best of Broadway. Enjoy performances of show stopping numbers from Les Miserables, Phantom of the Opera, CATS, Oklahoma, Wicked, 42nd Street and more.
This package includes 2 dinner theater tickets to the performance at Broadway Palm Dinner Theater (4 miles from the hotel) as well as overnight accommodations at Luminary Hotel & Co. Show dates September 9 – October 2. Dinner is served at 5:30pm, curtain rises at 7:30pm.
Broadway Palm Dinner Theater is located at 1380 Colonial Blvd., Fort Myers, FL 33901, located just 10 minutes from Luminary Hotel & Co. Get directions.
Stay in the know, subscribe to our events newsletter.