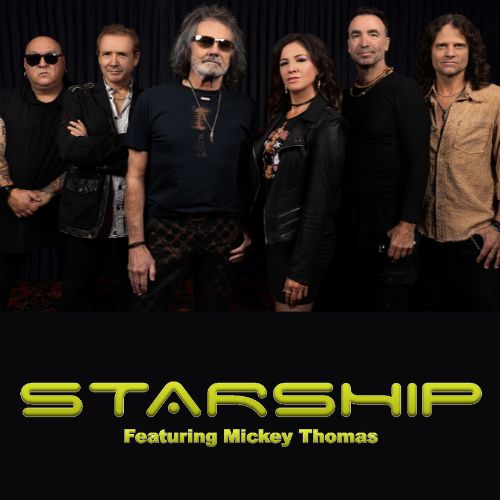 Starship featuring Mickey Thomas
Schedule: Sunday, April 2, 7:00 PM - 10:00 PM
Venue: Caloosa Sound Amphitheater – 2101 Edwards Drive, Fort Myers, FL, 33901
Contact:
p: 2393143757

Event Information
Starship featuring Mickey Thomas Lands at Caloosa Sound Amphitheater on Sunday, April 2!
Please consider bringing cash or donating at one of our drink tents to benefit our partner, Harry Chapin Food Bank of Southwest Florida.
The Rockin' on the River Concert Series continues with Starship featuring Mickey Thomas rocking the stage at Caloosa Sound Amphitheater! The concert will include 1970s and 1980s hits from Starship and Jefferson Starship, and a selection from Jefferson Airplane as a nod to the band's beginnings. Mickey Thomas and his soaring voice propelled Starship through the '80s, and his compelling vocals establishing him as one of rock music's most recognizable stars. He first made his mark in 1976 as lead vocalist on the mega-hit "Fooled Around and Fell In Love" with The Elvin Bishop Band. In 1979, Mickey joined Jefferson Starship as the lead vocalist, recording a string of hits including "Jane," "No Way Out," "Find Your Way Back," "Stranger," "Layin' It on the Line." The group was renamed Starship in 1985 and went on to record three #1 hit songs, including "We Built This City," "Sara," and "Nothing's Gonna Stop Us Now" from the film Mannequin, which also was an Academy Award nominee.
A selection of VIP, reserved seating, and general admission tickets are available, ranging from $20 Back Lawn open seating to $150 VIP Stage Right packages.
The VIP Stage Right package ($150) includes a reserved ticket stage right of the main performance area; one drink (water, soda, beer or wine); a prix fixe dinner at The Silver King Ocean Brasserie, Luminary Hotel & Co.'s signature restaurant adjacent to the Amphitheater; access to private VIP restrooms; and a private photo opportunity with the artist(s).
VIP Front Row ($100) and VIP Floor seats ($75) include a reserved seat directly in front of the stage; one drink (water, soda, beer or wine); and access to private VIP restrooms.
Reserved Front Lawn seats ($50 and $35) include a reserved seat in the front lawn area.
General admission Back Lawn tickets are also available for just $20.
Doors open at 6PM. Outside food and beverage, coolers, and umbrellas are NOT permitted. No pets allowed. For a full list of prohibited items, click here.
Seats are provided for the VIP Stage Right Package, VIP Front Row, VIP Floor Seats, and Reserved Front Lawn Tickets. General Admission tickets do NOT include a seat, so please bring your own foldable lawn chair, or blanket. For more information about ticketing, click here.
Please note parking is NOT included with event admission. Nearby Options are Denison Parking Luminary Garage: 2200 Edwards Drive, Fort Myers, FL 33901 (Attached to Luminary Hotel & Co.), Luminary Hotel Valet, and City of Palms Parking Garage: 2118 Bay Street, Fort Myers, FL 33901.
Starship Rock & Stay Package!
Don't feel like dealing with after show traffic? Book our Starship Rock & Stay package, which includes 2 General Admission tickets, overnight accommodations for after the show, and parking!
Book the Starship Rock & Stay Package Here!