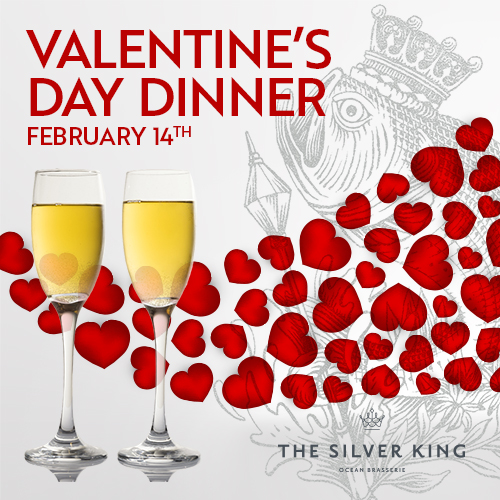 Valentine's Day at Silver King Ocean Brasserie
Schedule: Monday, February 14, 5:00pm - 10:00pm
Venue: The Silver King Ocean Brasserie at Luminary Hotel & Co. 2200 Edwards Dr., Fort Myers, FL 33901
Contact:
p: 12393143855
e:

[email protected]
Event Information
Valentine's Day Dinner
Fine seafood, steaks & wine
Plan a special night with a romantic dinner for two at The Silver King Ocean Brasserie. Dine on a menu including fine seafood, steaks and extraordinary wines.
On Monday, February 14th, The Silver King Ocean Brasserie at Luminary Hotel & Co. in Fort Myers opens its doors to welcome diners celebrating Valentine's Day. Two tempting specials accompany the menu of fine seafood and steaks. First, diners will be able to order a luscious dessert of chocolate lava cake filled with warm melted chocolate and topped with a sweet Chambord raspberry sauce. Second, from the wine room, bottles of Taittinger Champagne are available for only $58 each, or poured by the glass for only $10 each. A red rose will be presented to each couple during dinner service. The private dining room with seating for up to 14 guests may be reserved, to make the occasion even more memorable.
The Silver King Ocean Brasserie is located on the lobby level of Luminary Hotel & Co., located at 2200 Edwards Dr., Fort Myers, FL. Dinner is served from 5:00pm to 10:00pm. For reservations and to reserve the private dining room, please call 239-314-3855.