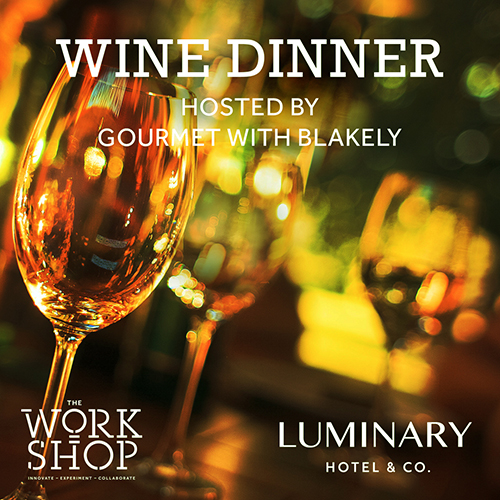 Wine Dinner Hosted by Gourmet with Blakely
Schedule: Wednesday, March 10, 6:30pm - 9:00pm
Price: $79
Venue: The Workshop, Luminary Hotel & Co., 2200 Edwards Dr., Fort Myers, FL 33901
Contact:
p: 12393143723
e:

[email protected]
Event Information
Food & Travel celebrity Chef Blakely Trettenero is your host for a delicious evening including a three-course meal, cooking demonstrations, and conversations with noted wine experts. Enjoy a tasteful tour of the family wineries of Napa Valley. Wines featured will be available for sale after the event. See the menu.
$79 per person, includes gratuity. Parking not included.
Seating is general admission, doors open 10 minutes before the start of the event.
$249 includes event admission for two plus accommodations for one night.
SAVE The DATE: More events with Blakely are coming up on April 15th and May 5th. Watch our Events Calendar for future postings.