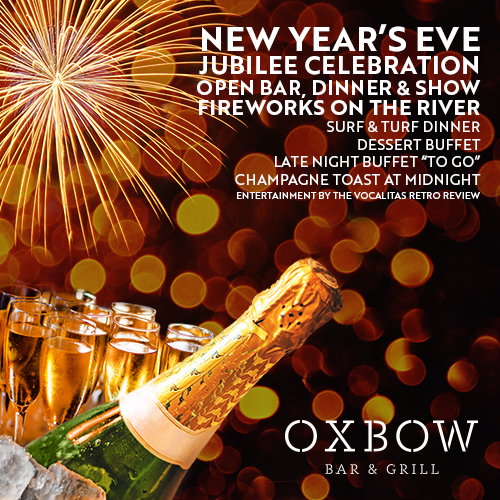 New Year's Eve Jubilee Celebration at Oxbow Bar & Grill
Schedule: Friday, December 31, 6:30pm - Saturday, January 1, 12:30am
Price: $225
Venue: Oxbow Bar & Grill waterside restaurant 1300 Hendry St. Fort Myers, FL 33901
Contact:
p: 12393143854
e:

[email protected]
Event Information
SOLD OUT – WAIT LIST AVAILABLE
New Year's Eve Jubilee Celebration with elegance and sparkle
Celebrate the start of 2022 at this spectacular event on the top floor of Oxbow Bar & Grill. Your evening begins with a cocktail hour with live music, passed appetizers, champagne and our signature cocktail. Dinner is served from 7:30pm to 9pm with a surf & turf entree and sides. Afterward, enjoy a delicious dessert buffet of sweet treats. At 9:00pm, enjoy the song stylings of The Vocalitas, with mid-century favorites and toe-tapping songs you remember. Stay until midnight for a front-row view of the city's fireworks display from Lofton's Island right across from you. The evening concludes with a late night buffet "to go" for treats to take home to enjoy tomorrow.
Cocktail attire.
Ticket instructions and information
Please follow the system prompts through all steps to place your order. You will receive an email with a registration confirmation immediately after your purchase, this is your personalized ticket. Please print and bring a copy of this email with you along with your I.D. for entry to the event. If you do not receive an order confirmation immediately after making your purchase, please check your spam folder. Contact us right away if you have not received your registration confirmation. For event entry, please present your printed email, your I.D. and arrive with your entire party together. Doors open 10 minutes before the event.
Must present a valid ticket for entry. Tickets are sold only on our website at LuminaryHotel.com/Events. Tickets are personalized and non-transferrable. Only valid tickets will be accepted. We I.D. no one under 21 will be admitted. No pets.