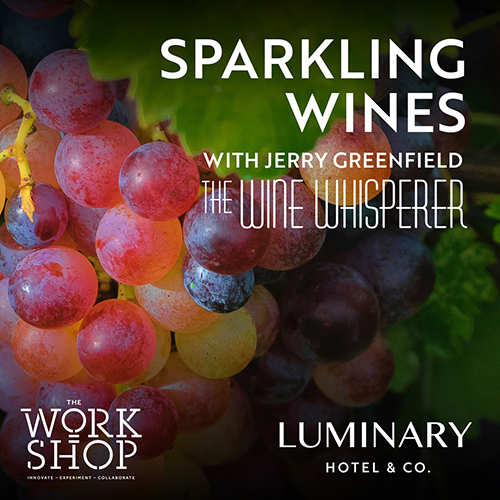 The World of Wine with The Wine Whisperer, Jerry Greenfield
Schedule: Tuesday, May 25, 5:00pm - 6:30pm
Price: $35
Tickets Available: 40
Venue: The Workshop Culinary Theater at Luminary Hotel & Co., 2200 Edwards Drive, Fort Myers, FL 33901
Contact:
p: 12393143723
e:

[email protected]
Event Information
Wine Classes with The Wine Whisperer
Sparkling Wines
Taught by noted wine expert, educator, and author Jerry Greenfield, guests will enjoy a sampling of wines during each class. This very popular series will introduce guests to the basics of wine appreciation and dive deeper into individual regions, wine types and wine and food pairings. Additional classes in this series will focus on the art of pairing wine with food. See more below.
Tickets are $35 per person per class. Seating is limited. Parking not included.
Complete your evening with dinner at Silver King Ocean Brasserie. Reserve a table.
Book the other class in The Wine Whisperer Class Series
June 1 – The Art of Pairing Wine with Food
Advanced purchase only. Seating is general admission. Please arrive early, doors open 10 minutes before the start of the event. Masks required. Over 21 only. No pets.