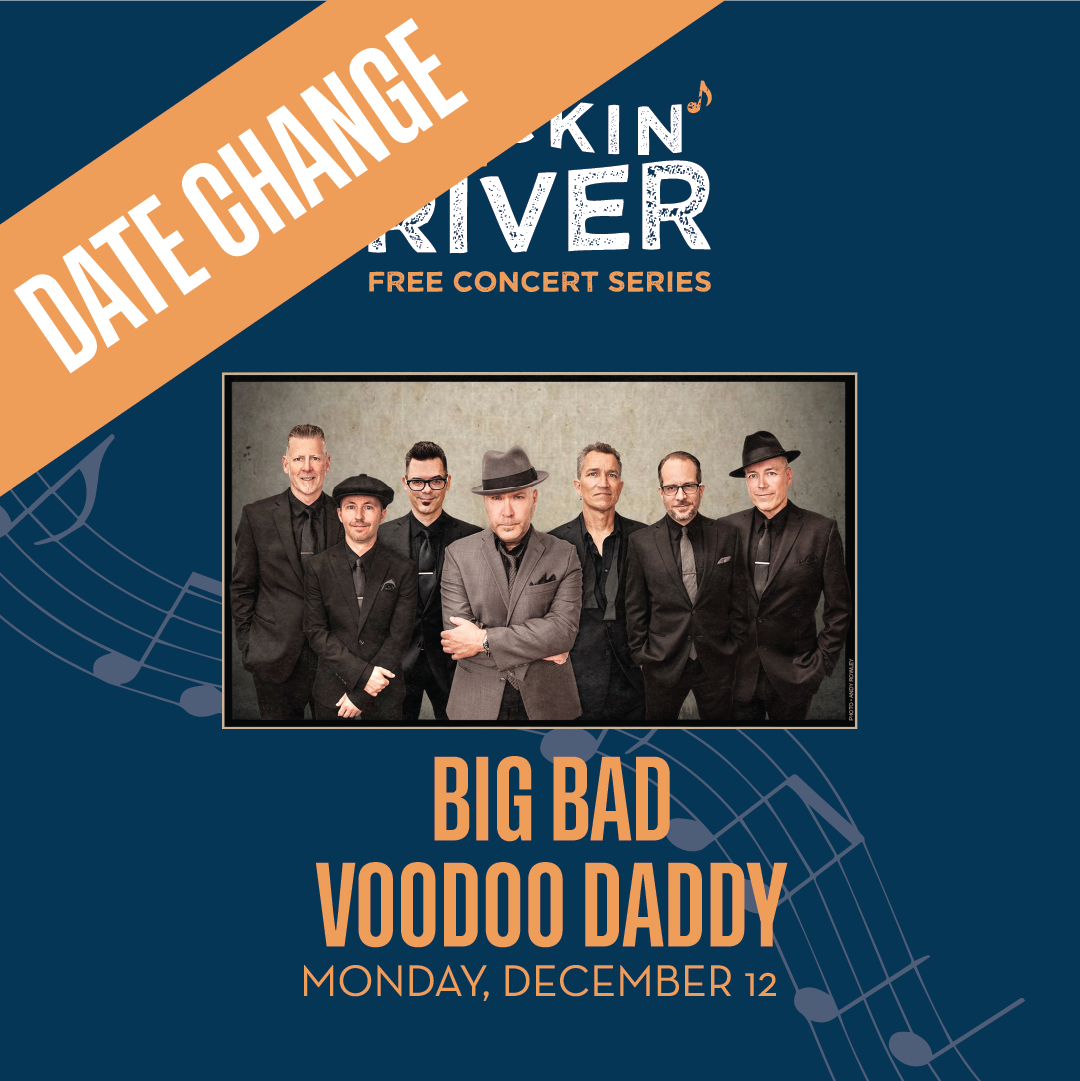 Rockin' on the River Presents: Big Bad Voodoo Daddy
Schedule: Monday, December 12, 7:00 PM - 11:00 PM
Price: FREE
Venue: Caloosa Sound Amphitheater – 2101 Edwards Drive, Fort Myers, FL, 33901
Contact:
p: 239.314.3729

Event Information
Due to a tour routing change, the Big Bad Voodoo Daddy concert originally scheduled for Thursday, December 15 has been rescheduled to MONDAY, DECEMBER 12. All claimed free tickets or purchased tickets for the old date (December 15) will be honored at the new date (December 12). If a ticket holder cannot attend the new date, we ask that you please request a refund in Eventbrite. Here is a helpful link on how to request a refund: Request a refund | Eventbrite Help Center. We apologize for the inconvenience and hope you can still join us on the new date!
Join us on Monday, December 12 for Big Bad Voodoo Daddy – The fourth and final show of our FREE concert series "Rockin' on the River"! The concert will be a fun & funky twist on the holidays as Big Bad Voodoo Daddy performs holiday classics and Christmas Originals!
Lawn tickets are free but must be claimed in advance. A limited number of VIP, Super VIP, and General Admission Seating tickets are also available for purchase.
Doors open at 6PM. Outside food and beverage, coolers, and umbrellas are NOT permitted. No pets allowed. Blankets and foldable lawn chairs are permitted for lawn tickets. Seats are provided for VIP Reserved, Super VIP, and General Admission Seating $20 tickets. For a full list of prohibited items, click here.
Please note parking is NOT included with event admission. Nearby Options are:
• Denison Parking Luminary Garage: 2200 Edwards Drive, Fort Myers, FL 33901 (Attached to Luminary Hotel & Co.)
• Luminary Hotel Valet
• City of Palms Parking Garage: 2118 Bay Street, Fort Myers, FL 33901
Rock & Stay Package
After attending "Rockin' on the River" at Caloosa Sound Amphitheater, end the night on a high note at Luminary Hotel & Co.! This package includes overnight accommodations in a Classic King guest room, two General Admission tickets and complimentary self-parking.